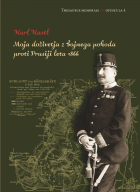 Title:
Author:
Other authors:
Year:
Compilation:
Keywords:
Language(s):
Description
The battle at Königgrätz in July 1866 was one of the most famous and also one of the bloodiest military conflicts between the Austrian and the Prussian armies. It had a huge impact on the future development of the Austrian Empire. One of the Austrian soldiers was the not quite 18 years old Karl Kastl from Baden near Vienna, who only a few months later wrote his detailed memoirs of the battle. Kastl was later transferred as officer to Ljubljana, where he married and remained until his death in 1920.
The main part of the book consists of Kastl's memoirs in the German original with a Slovenian translation, accompanied by three additional studies. Rok Stergar presents the wider political situation in Central Europe in the first half of the 19th cenutry, which led to the outbreak of hostilities between Austria and Prussia in 1866. Miha Šimac describes Kastl's military career, including it in a detailed description of the battle at Königgrätz. The last study, written by one of Kastl's great-granddaughters, Angelika Hribar, is a decription of Kastl's personal life, his family and his social engagement in Ljubljana.
Table of content
Miha Preinfalk: Bitka, ki je spremenila (tudi slovensko) zgodovino
Karl Kastl: Moja doživetja z bojnega pohoda proti Prusiji leta 1866
Karl Kastl: Meine Erlebnisse aus dem Feldzug gegen Preussen 1866
Rok Stergar: Spopad za Nemčijo. Zunanjepolitične in vojaške okoliščine prusko-avstrijske vojne leta 1866
Miha Šimac: Od Kraljevega Gradca do Ljubljane: vojaška pot topniškega častnika Karla pl. Kastla
Angelika Hribar: Karl Kastl (1848–1920), njegova družina in javno delovanje v Ljubljani
Zusammenfassung
More ...
Milan Vogel: ŠE ENA IZ AVSTRO-OGRSKIH ČASOV; Delo 21.2.2017
KRALJEVI GRADEC; Družina 2.10.2016
KARL KASTL: MOJA DOŽIVETJA S POHODA PO PRUSIJI LETA 1886; Večer – V soboto 17.9.2016
Iztok Ilich: MOJA DOŽIVETJA Z BOJNEGA POHODA PROTI PRUSIJI LETA 1866; Bukla 14.9.2016
Publishing House
Založba ZRC
ISBN
978-961-254-908-4
Specifications
paperback • 17 × 23,5 cm • 170 pages • illustrated
Price
19,00 EUR (Regular)
15,00 EUR (Club)