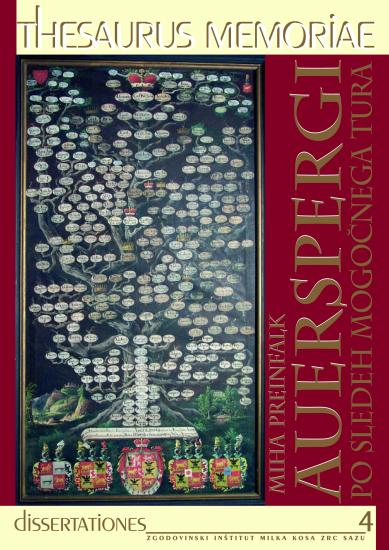 Auerspergi. Po sledeh mogočnega tura.

Author: Miha Preinfalk
Year: 2005

The main purpose of the author's research was to present the Auersperg family in time and place. The interest in the Auerspergs [Turjaški] has been maintained for a number of centuries, and yet the family has, despite its nearly millennial presence in the Central European area, so far not received any synthetic or analytical discussion that would result in an integral study of the family. What is more, most works featuring the Auerspergs contain a multitude of inaccuracies and shortcomings, which may also distort the picture of broader historical developments. The author of this study therefore aimed to elucidate (often complicated) kinship in this family, not only those in the lineage that relates to Carniola, but in the family as a whole.
The research draws on comprehensive literature, most significantly on the archival materials from numerous Central European public and private archives.
The design of the monograph is simple: the presentation of the Auersperg family and its members follows the chronological order from the first appearance in sources in 1162 (or 1062) to date. Although the author's research also reaches into the 20th and 21st centuries, the primary focus is limited to the period until the end of the First World War, the disintegration of the Austro-Hungarian Empire and the formal abolition of nobility. After that, the family is presented only in the most essential basics necessary to understand its present image and situation.
In the end follows the lexical part of the monograph with the basic presentations of all members of the Auersperg family in an alphabetical order, from the 12th to the 21st century. In order to provide a graphic presentation of the estates and the wide geographic spread of the Auerspergs, the author's research also includes a comprehensive family tree as well as a variety of pictorial materials and maps.
---
Author

Publishing House:

Založba ZRC

ISBN

961-6500-79-1

Year

2005

Series

Thesaurus memoriae Dissertationes 4

Language(s)

Specifications

hardback 20 × 28 cm 655 pages

E-publications

Permalink