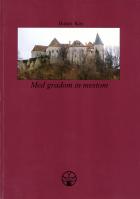 Title:
Author:
Year:
Compilation:
Keywords:
Language(s):
Description
Monografija prinaša raziskavo poznosrednjeveškega plemstva v luči njegovih bivališč med 11. in 14. stoletjem na ozemlju Kranjske ter slovenskem delu Štajerske in Koroške. V prvem delu avtor odgovarja na vprašanja o nastanku gradov: avtor se je bolj kot izgledu in stavbnemu razvoju grajskih poslopij posvetil pravnozgodovinskim vprašanjem o nastanku, statusu, lastništvu in posedovanju gradov ter notranjim odnosom med grajskimi posestniki v »zlati dobi« plemstva. Drugi del vsebuje analizo prek 180 gradov, ki so bili obljudeni vsaj še v začetku 15. stoletja, ter njihovih prebivalcev.
Between Castle and Town. Relation ofthe Carniolan, Slovene-Styrian and Carinthian Nohility Towards Castles and Towns up to the beginning of the 15th Century.
The aim of the monography is to clarify some elements offhe social structure oft he privileged social classes of the Late Middle Ages society in the light of their dwelling-placeswhich reflected nobleness (castles, courts, towers). The research is focused on the nobility and the higher classes of the citizenry of the 14th century as the 14th century presents a tuming point for the structure of the nobility. The book is limited to the territory of Carniola, Lower (Slovene) Styria and the Slovene part of Carinthia. The chapter "Tower, Court, Castie nad Nobility c1arifies the role, the extension of the nobility-seats, seeks connection between the social status and type (largeness) of the settlements. The main part of the research is based on the analysis of 180 Carniolan and Lower-Styrian and Carinthian castles which were inhabited at least up to the 14th century, and their inhabitants from their origin to the beginning of the 15th century. In this part the monography offers answers to questions on the origin of individual castles, family policy about possesing castles, special rights of the landlords towards the castles, the manner of possesion of castles, on the castle as the place for performing legal business, castie and landlord administration and on the castle as the object offinancial operations. The first part of the chapter "Town and Nobility" clarifies the relation of the country nobility towards local and distant towns (administration, relatives, business activities). The second part analyses and seeks eventual patriciate in important towns and boroughs.
Publishing House
Založba ZRC
ISBN
961-90125-0-X
Specifications
paperback • 21 × 29,5 cm • 245 pages