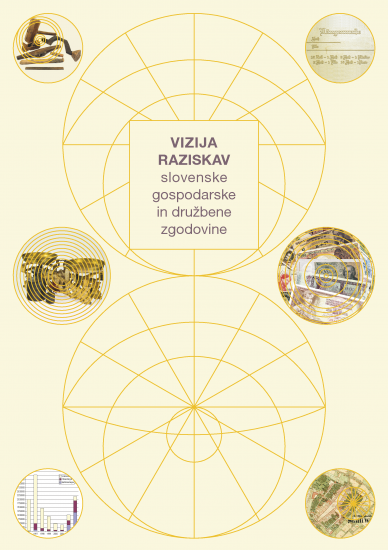 Vizija raziskav slovenske gospodarske in družbene zgodovine.
Edited by: Darja Mihelič
Publishing House: Založba ZRC
Year: 2014

The monograph focuses on the problem concerning research on economic and social history, which is regarded a deficit research area in contemporary Slovenian historiography. It also deals with retrospective analysis of systematic research on socio-economic problems. The latter has followed the guidelines that were set by the Slovenian Academy of Sciences and Arts in the mid-20th century as part of the programme Natural and cultural heritage. In 1970 and 1980, two extensive volumes were published on agrarian history of the Slovenes as a result of efforts made by a large number of authors. After that, the programme work came to a halt and research on economic and social history, which sets before Slovenian historiography an undisputed desideratum of an integral research that necessitates the involvement of a broader institutional and amateur historical public, became fragmented for a variety of reasons. More than three decades later, the monograph aims to fill this gap and point to the possibilities of further research. The (altogether nineteen) authors of the monograph include not only Slovenian ones but also experts from other countries (Austria, Italy, Switzerland), where research on economic and social history has a prominent place in historiography.
---
Edited by

Other authors

individual contributions

Matjaž Bizjak

,

Neven Borak

,

Ernst Bruckmüller

,

Boris Golec

,

Stane Granda

,

Eva Holz

,

Dušan Kos

,

Miha Kosi

,

Žarko Lazarević

,

Aleksander Lorenčič

,

Luigi Lorenzetti

,

Darja Mihelič

,

Luca Mocarelli

,

Aleksander Panjek

,

Hrvoje Petrić

,

Miha Preinfalk

,

Jože Prinčič

,

Hrvoje Ratkajec

,

Miha Seručnik

,

Žiga Zwitter

,

Aleksander Žižek

Publishing House

Založba ZRC

Publisher

ISBN

978-961-254-678-6

Year

2014

Language(s)

Specifications

hardback 17 × 23,5 cm 388 pages

E-publications

Permalink

Keywords

collective volume

historiography

Slovenia