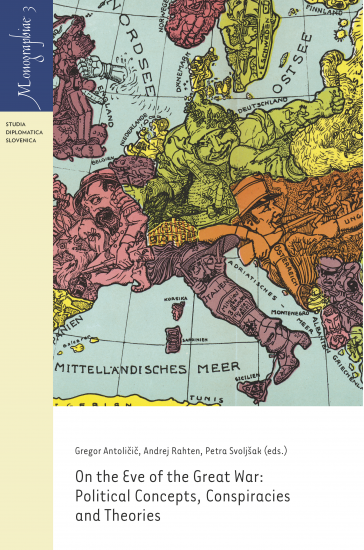 On the Eve of the Great War. Political concepts, conspiracies and theories.

Edited by: Gregor Antoličič, Andrej Rahten, Petra Svoljšak
Year: 2015

The book "On the Eve of the Great War" represents various perspectives of Slovenian, Austrian and German historians on the happening at the time of the outbreak of World War I. The authors` studies are based on many years of literature studying and research of archive material. These published contributions are providing an insight into various spheres of pre-war and mid-war events and are, regarding few areas of research, leading to completely new conclusions. They will allow the readers to understand better geopolitical circumstances that led to the outbreak of World War I. In the book that was published during the time of many ceremonies, marking the 100th anniversary of fatal assassination in Sarajevo and the beginning of World War I, the authors emphasize the importance of the research of the fundamental factors that forced global superpowers into the mutual conflict. Foreign authors` contributions allow us to review historical facts from various standing points of national historiography as they present fundamental viewpoints of the historical development. This publication, released in English, due to all stated factors, presents an important piece of work for the research of World War I.
---
Edited by

Other authors

individual contributions

Publishing House:

Založba ZRC

Co-publishers

Center za evropsko prihodnost (Mengeš)

ISBN

978-961-254-762-2

Year

2015

Series

Studia diplomatica Slovenica Monographiae 3

Language(s)

Specifications

hardback 16 × 24 cm 115 pages

E-publications

Permalink