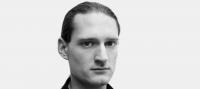 assistant, young researcher
Research interests
Vanja Kočevar studies political and military history of 17th century Carniola. His research focuses on the impact of broader European developments in confessionalization, the rise of absolutism and  the thirty years' war  on the duchy of Carniola and the lives of its inhabitants.
Curriculum Vitae
Education
2012 bachelor's degree, Department of history, Faculty of arts, University of Ljubljana.
Employment
Since 2012 young researcher at The Milko Kos historical institute ZRC SAZU, Novi trg 2, 1000 Ljubljana.
Research areas
Modern history (up to circa 1800) H230 • Political history H271 • Local and regional history, historical geography since the Middle Ages H280
Keywords
seventeenth century • military history • political history • confessionalization • thirty years' war • absolutism